The Community Suppers Program

The Community Suppers Program serves a free meal every Monday evening at 5:00 PM to anyone who comes. Meals are served in the church hall, which is accessed through the door in the middle of the side wing of the building. This program is a joint project of a number of local churches, and serves over 5000 meals per year. For more information call Guy at 203-367-7535.
Family Matters Community Center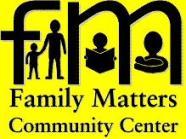 The Family Matters Community Center is a safe place for parents/guardians and their children (from birth to age 5) to come together for fun, friendship, and learning. A structured program is offered which includes circle time, singing, dancing, interactive play, snack time, a children's library, arts and crafts, and an outdoor playground. Also, adult support groups, field trips, and opportunities to meet other families in the area are available. The Center is open Monday through Thursday from 9:30 to 11:30 AM, with special programs offered during the summer. For more information call Brenda at 203-696-0787.
The Unity Group (Alcoholics Anonymous)

The Unity Group holds 12-step Alcoholics Anonymous meetings every day of the week in the auditorium in the basement of the Parish Hall. Separate access to this room is off the back parking lot of the church off Beechwood Avenue. Meetings are held two or three times a day, and 24-hour Alkathons on major holidays. Call District 5 at 877-855-0075 for a schedule of meetings and for more information.